Founder
Swan Mountain Outfitters was founded by Pat & Joanne Tabor. Ever since Pat was in his teens, he always dreamed of owning an outdoor recreation company. Pat has been fishing and hunting all over the world. As he reflected back on the many places he's been and trips he'd experienced, a handful of places stood out above the rest. That became a goal in founding Swan Mountain Outfitters- to deliver a stand-out service and experience, one that creates lasting memories.
Often described as a "new generation outfitter", Pat and his family focus on providing top quality customer service for the guests of Swan Mountain Outfitters and use the best equipment, techniques and trip planning strategies that create the best adventure itineraries and experiences today. Industry expertise, combined with his strong business acumen gained through almost three decades in the corporate world, helped Pat build a strong foundation for the company.
Growth
1999: Pat and Joanne Tabor founded Swan Mountain Ranch
2005: Acquired Lion Creek Outfitters and merged the operations to form Swan Mountain Outfitters
2006: Acquired the exclusive contract to provide horseback rides in Glacier National Park.
2007: Wilderness Guide School was formed
2010: Acquired Great Northern Llama and formed Swan Mountain Llama Trekking.
2013: Acquired the Rawhide Trading Post's Trail Ride operation, this resulted in the West Glacier corral- the company's 5th trail riding location.
2014: Acquired Rawhide Trading post, and renovated into the Crown of the Continent Discovery Center
2014: Swan Mountain Snowmobiling was formed.
2017: After a delay in the acquisition due the Meadow Creek Fire, Salmon Forks Outfitters is added to the lineup. This adds a new route to provide fishing and pack trips within the interior of the Bob Marshall Wilderness.
2017: Renewal of the 10 year contract between Glacier division and the National Park Service, ensuring another decade of trail ride operations in the Park.
Family
Swan Mountain Outfitters is truly a family-run outfit. Pat & Joanne's son, Patrick has taken over as the Outfitter and Owner. Patrick went to school for Recreation Management and Nature Based Tourism. Patrick and his wife Megan own and manage the Swan division of the company, along with Swan Mountain Wilderness Guide School and Swan Mountain Llama Trekking.
Pat and Joanne's daughter, Aubrie Lorona, and her husband Erik are also co-owners. Together they manage the Glacier division of Swan Mountain Outfitters, Swan Mountain Snowmobiling, and Crown of the Continent Discovery Center.
The entire family has a passion for the outdoors and relishes in the privilege to share Montana with our guests. Pat and Joanne now especially enjoy being able to step back from the day to day managing of the company, and getting to enjoy time in the great outdoors with their grandkids!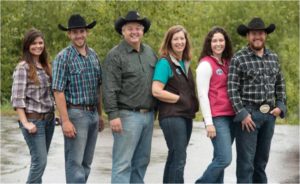 Permits and memberships
Swan Mountain Outfitters operates under permits from the Flathead National Forest, Glacier National Park and Montana DNRC. Swan Mountain Outfitters is a proud member of the following industry associations: