My daughter and I had a great time on our recent 3 day pack trip! Shawn was wonderful with Mary Grace, who is an avid horse lover- We are definitely coming back to do the 5 day. Rick did a great job too. I really enjoyed my time with both the guys– great scenery, great fishing. Thank you!
I was fortunate to participate in the last hunt of the year in November 2013 and enjoyed myself immensely. Your hospitality and attentiveness before, during and after the hunt was greatly appreciated. Swan Mountain Outfitters gave me the exact experience I was looking for and much more. This was the best hunting trip of my 30 years of hunting. Your most professional and caring staff was a pleasure to be around. The remuda of horses were more than fit for the purpose and impressively trained. My guide Mike, was an astounding professional with maturity and knowledge beyond his years. His work ethic and personal demeanor were very refreshing and speaks volumes about the folks you employ. I look forward to bringing my son for the same experience. Many thanks!
I was fortunate enough to be given a lion hunt with Swan Mountain Outfitters as a Christmas gift from my wife and parents. It turned out to be one of the greatest gifts that could be given! Everyone was very helpful answering questions and helping with logistics before my arrival, and Pat and JoAnne were very welcoming hosts during my stay. The food was excellent! The guide/houndsman was top-flight; I really can't say enough good things about him. He was so good, in fact, that my entire hunt lasted only four hours, and a 150 lb tom was taken. I have already recommended Swan Mountain Outfitters to friends and I plan to return in the next year or two with a family member for another lion hunt. My only recommendation to anyone considering a lion hunt, is to spend as much time as possible getting in shape. These aren't easy hunts, but the reward is worth the work! If you are lucky enough to book with Swan Mountain Outfitters, you won't be disappointed!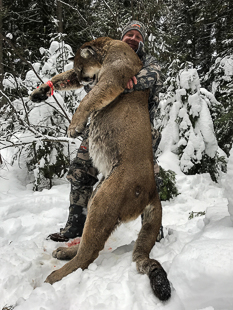 I absolutely loved Swan Mountain Outfitters and the experience I had with my son while hunting with your outfit. I can't say enough positive things about your team, the food, the amazing setting, and the memories made. Tom (our guide), was one of the best parts of the whole experience. He was such a professional through the entire process. He was knowledgeable and very patient. He taught us a lot about the land, the plants, the animals, and honest hard work. I am very grateful to have had him as a part of our experience (and not just because he got us a huge buck).
Once again I want to thank you for a wonderful and exciting hunt. It was a great experience and exceeded my expectations. I know I will reflect often on the beautiful country you shared with us and look forward to the day I can return for another hunt.
Pat, I again want to thank you for helping me get my mule deer of a life time. I've been hunting for 30 years, and finally got the mule deer of my dreams, I'll be back!
As you know I have been coming back for over ten years, and I'm often asked why. It is simple, I know of no other place where I feel so away from it all. I love the terrain, the camps, staff and animals. I've been to other outfits, but none compare to the experience I've had at Swan Mountain Outfitters!
Great experience! Connor was an awesome guide! He was very knowledgeable and down to earth. We got it done on the first day! I know that's not typical, but I think the success can be attributed to his pre scouting and his willingness to do what it takes to get it done. Jane kept our bellies full which is important in the mountains. I have already booked another hunt. Thanks for a great time.
Thank you Swan Mountain Outfitters!! The 5-day pack trip was more than we ever hoped for, we could have easily stayed longer. Ben and Connor our Guides are the most professional, hard working, conscientious, safe and kind people you would want on this kind of trip! We appreciate all they did to give us such a memorable experience. George was the icing on the cake :) Can't thank him enough for the great food, conversation and attentiveness that went way beyond keeping us very well fed. The horses and mules are amazing, so well cared for and loved. Earl is exactly the reason we'll choose SMO again. Their stock have the strength, experience and temperament you want for this type of ride. We felt safe every part of the trip and would absolutely do it again. My husband and I traveled 2600 miles from NH and highly recommend SMO!
The scenery was wonderful and the horses were in great condition. What really made your operation shine (and as a result, our experience) was our wrangler/guide Claire. She was a wonderful, engaging and knowledgeable host. Knew her stuff, answered all of our questions and even laughed at our jokes! If your business is your people, then you have a great business.
I just wanted to thank you again for the wonderful adventure I had as a guest with Swan Mountain Outfitters. Your staff was excellent and the camp comfortable. I felt safe at all times. The food was tasty and plentiful. I not only had a great time but learned a great deal about everything from horses and mules to fishing, hunting and just plain sightseeing and relaxing. The trip was so perfect I cannot stop talking about it and have told many people about my experience and given out the name of your outfitter website. Also your hospitality at your home/guest cabin was wonderful as well.
…I wanted to send you a quick note and let you know how much I enjoyed the hunt. I had a great time, and appreciate very much the hard work put in by everyone to make it such a fine experience. Please pass on my thanks to the crew, and I hope to see you next year…
…I just wanted to drop you a note as a follow-up from our hunt last week. We all had an awesome time hunting with your gang. Shawn and Mike are great. Mike really impressed all of us with his quiet, humble manner and tremendous knowledge of the outdoors. He is a definite keeper. You run a nice, down to earth, comfortable operation and we want to say thank you again and please thank Shawn and Mike personally, I know it means more coming from the boss. We will be looking to set up another hunt with SMO as soon as we can…
…I just got back from our hunt and wanted to take a minute to thank everyone that helped make it a success. Again this year everyone I came in contact with went out of their way to make sure we felt at home. From the time Craig picked us up at the airport to packing us up the mountain and moving us back to upper camp early he did a great job and really worked hard. Judy is a great cook and very interesting person. Even the other guides we came in contact with, Shawn and Luke, seemed to care that we were having a good hunt. And of course I don't have enough space or time to say all I want to about Tom- I'll just put it this way I don't want to hunt with anyone else!!!!! What a great guide and guy. Thanks again, I know that a well run organization starts at the top and yours is very well run. I will be in touch about next year very soon...
Thanks to Swan Mountain Outfitters for an awesome hunt. My guide, Tom, was very knowledgeable and pleasant to hunt with. The meals were prepared by Gini, WOW, the meals were incredible. The lodge was very clean and accommodating. Pat Tabor and his staff are top notch. I will plan another trip in the future. Thank you for the great experience.
I went on the late season hunt with my 12 year old son and had an awesome time. It was a great hunt for my son's first time on horseback; the stock, the meals, the guide, the lodging, all great. We took a whitetail buck on the first day and a 5 point bull on the second day, had a chance at a wolf but could not seal the deal. We were into elk and deer every day, but it doesn't always go your way. This is a real hunt, wilderness area, you have to get out and hunt it hard but there is a lot of game and it pays off. We will be back when my son is a little older and we can head back into a spike camp. We both had a great time!
I wanted you to know how fulfilling this trip was for me. Everything about it was outstanding, the facilities, my guide was the best, the horses, food, and oh yea, getting both an elk and a mule deer went way beyond my expectations!
The 3-day pack trip was amazing! Me and my son traveled the first week of Aug. From the moment we arrived at base camp to the moment we arrived at the camp on the mountain top, Swan Mountain Outfitters took excellent care of us and made the experience FUN. George cooked the most amazing meals that even a fully staffed restaurant couldn't compete with! I was a little nervous about coming back down the mountain on the last day but I didn't need to be. Ben walked our horses on the steeper paths (if we were concerned) and we all made it down safely. I absolutely would do it again....maybe the 5 day next time?! ~ Hannah
Just a quick note to thank you and everyone at SMO for our recent hunt. The hunting was great but the people were outstanding! Everyone I came in contact with from Martin, Jenni, Donnie, Katie, Chris and Shawn went out of their way to make you feel at home. I can't complement Tom enough, what a great guide and person. I feel I have been spoiled having him as a guide on my first guided hunt! And of course all of this hospitality starts at the top with you and your wife, what great host's. I am planning on coming back next year just have to figure out the logistics. I will be in touch shortly.
I just wanted to thank you for providing an excellent hunting experience. The trip was exactly as you said it would be and no BS. I could not be happier with the entire trip from start to finish. You have a top notch staff that was professional and courteous the entire time. The food was great and plentiful. Give all your staff a pat on the back for their efforts. I will be a return client and will tell anyone who is thinking of taking a back country hunt about your operation.
I want to thank you for the hunt through the Women on Target program this past November. It was a wonderful experience, just what I hoped for. Having Katie as the guide was perfect for this hunt. Thank you also for the information you sent on getting prepared, both physically and what to bring. Having that information and acting on it, helped this to be a successful experience.
We had a great time in Montana and certainly experienced many 'firsts' regarding the climate and horseback extremes (relative to our current experience levels), but that is all part of the challenge and adventure that we look back on and appreciate the opportunity of having. Your guides were top notch and very friendly, and your operation is nicely laid out and well executed. Thanks again for enabling this experience for us.